Poorboy's World Car Polishing and Detailing Products
Mark's Auto Accessories stock Poorboy's World Car Products - Not much money...but what a shine.
Poorboy's World Car Products are easy to use and produce fast results and an amazing shine - a favourite at car shows.
Car Shampoos & Polishes
Car Glazes & Sealants
Interior & Exterior Dressings
Natty's Paste Wax
Quick Detailers
Wheel Sealants & Cleaners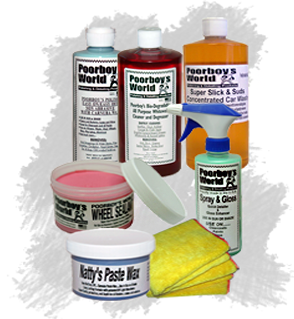 Poorboy's Car Care Products are EASY ON/EASY OFF, SUN or SHADE, and have the right amount of cleaners to leave an easy-to-maintain vehicle. Even though today's clear-coats are great protectors of the paint beneath them, most people do not have the time or experience to properly maintain them. To keep that "NEW LOOK" you must polish the vehicle's surface to regain a silky-smooth finish. This process will remove contaminates, surface dirt, some fine surface scratches, bird droppings, and water stains (acid rain).
Poorboy's World Car Products - no fancy packaging just exceptional results - available at Mark's Auto Accessories, Welshpool.