Car Care and Protection
Take the elbow grease out of caring for your car by using the right product for the job – Mark's Auto Accessories stock a whole host of car care products.
Clean and care for your car with a whole range of products designed specifically to treat each and every part of your car. From daily use car care products to comprehensive car bodywork restoration – Mark's Auto Accessories have the right product for you.
For serious "car crazy" people in Shropshire and Powys Mark's Auto Accessories of Welshpool stock Meguiar's quality car care products.
Car Air Fresheners
Car Polish & Colour Restorers
Vehicle Interior Cleaning & Exterior Cleaners
Pressure Washer Shampoo & Car Shampoo
Touch-up Paints & Scratch Removal
Haynes Workshop Manuals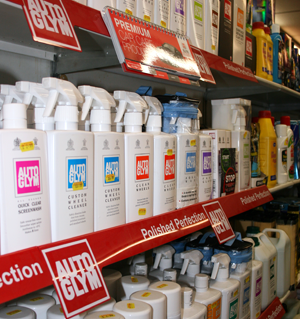 Mark's now stock Poorboy's World - Polishing & Detailing Products - not much money and exceptional results.
Care for your car with Auto Glym products from Mark's Auto Accessories of Church St, Welshpool.